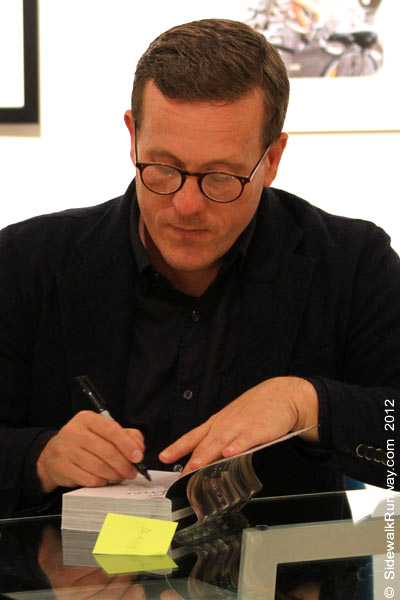 Meeting someone you respect or admire is tricky because it's natural to build expectations of who they are and how the encounter will unfold.

I had the opportunity to meet Jeanne Beker on two separate occasions at Toronto Fashion Week. Both times she was polite and professional but left no opening to start a conversation. Needless to say my enthusiasm evaporated and I walked away disappointed. With both encounters fresh in my mind, I lowered my expectations to avoid another potential disappointment.

When I entered the venue Tuesday evening I saw Mr. Scott Schuman seated behind a desk next to an empty chair. This was encouraging. He was taking the time to have a brief chat and pose for photos. When it was my turn, he looked me in the eye and shook my hand. I had months of experiences to share in a matter of seconds. I managed to comment on one of his photos, ask him a question and hand him my business card. He signed my book and in an instant the encounter was over.

I was happy for the opportunity but part of me wanted to stand in line a second time.

I wanted to tell him:

Jeanne Beker's Fashion TV, the documentary "Bill Cunningham NY" and his body of work were the motivating forces behind my blog.
In some photos I could see exactly how he connected with his subjects to capture the shot. Other times I was curious how he "pulled it off".
I too lived in the Midwest and NY State.
I love how his subjects span age, race and gender. However, I haven't seen many plus size subjects.

I wanted to ask him:

How do you manage to find perfect lighting in every shot without the aid of a flash or reflector?
Before you were famous, were you able to form friendships with your subjects? Or was it difficult because the encounter was random?
How heavily or sparingly do you use Photoshop?
What millimeter lens do you prefer? Wide Angle (to be close up) or telephoto (to be distant & removed)?
When you take a person's photo, they expect it will be posted on your site. Have you changed your mind? Did you feel bad? How did you tell them you wouldn't post their photo?

Upon reflection, I was happy with the encounter. I resisted the temptation to try again and opted for capturing images of fashionistas at the venue. I lingered for couple hours snapping photos and chatting with people. It was a very nice evening.