I like Project Runway's alternative materials challenge. When I saw an ad for the Wearable Arts Awards I knew I had to attend. The event was held at Port Moody's City Hall Galleria. Once inside, the Event Coordinator kindly showed me best spot to stand for lighting. This was extremely helpful because flash photography was not permitted. Organizers consider the event an art show as opposed to a fashion show. And they consider the girls dance performers as opposed to models. The performers wore silver body paint and wore their black dance outfits under each creation. This presented unique challenges because the ceiling mounted lighting cast harsh shadows, the body paint made the girls appear pale and most creations would have looked better without the black top and black shorts. Please don't read too much into my photographic challenges because the event was just fine for those that simply came to enjoy the show.

The show featured 61 designers! Almost all the designers were from Canada. Several came from the US and one from the Netherlands! The creations I liked differed from what the judges selected. But with any art form or medium, beauty is in the eye of the beholder. I've ranked my top 5 favorites below plus a couple extras. The artist's statements were interesting so I've included those as well.



Seen @ the Show
---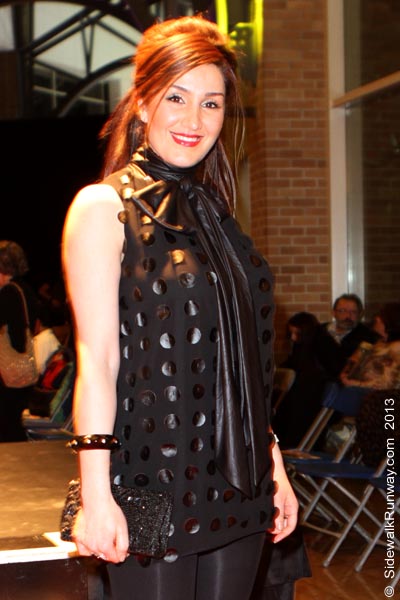 Shirin (left) is a designer but she did not submit a creation for the event. At present she only designs outfits for herself and her sister.



1. Dance Party Postal
---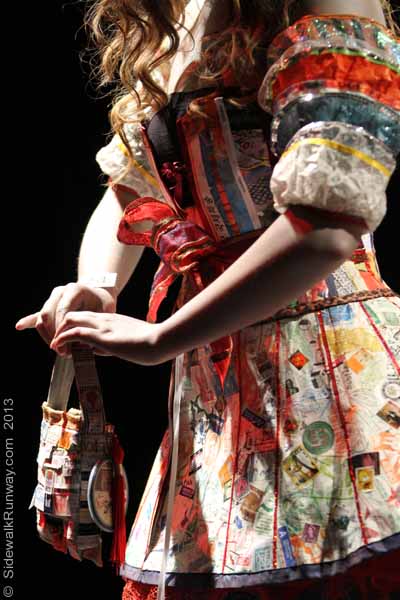 "I made an outfit from recycled 'fashion debris' that my friends mailed me. Debris such as paper, tissue paper, ribbon, envelopes, stamps
and clothing labels." Designer Lorraine Kwan



2. Shadow Warrior
---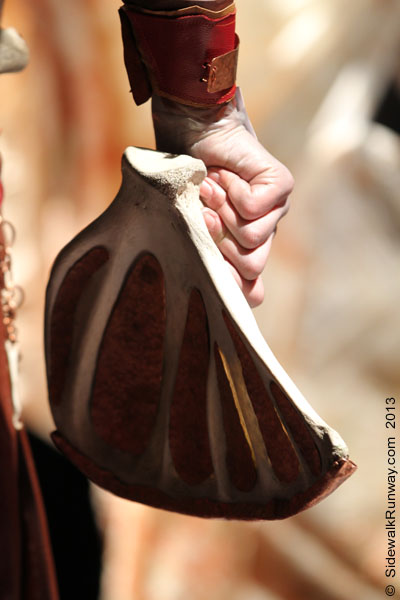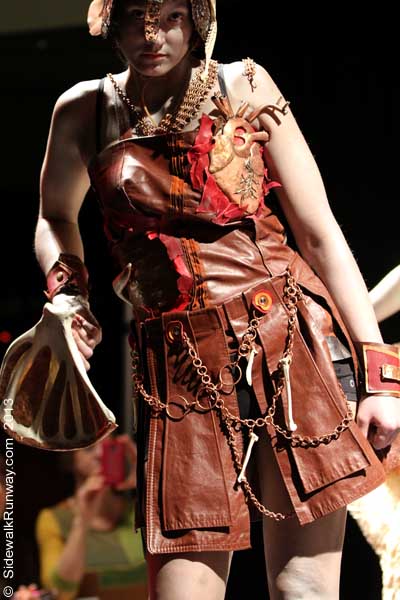 "The Shadow Warrior embodies innocence, vulnerability, raw nature and the traits that lie deep within. Exposing what lies within. The dress was made from recycled leather, copper, fabrics, bone, real dried butterfly, copper chain mail, antler, canvas and plastic." Designers Rowan Kehn & Julie Glaspy



3. Guardian
---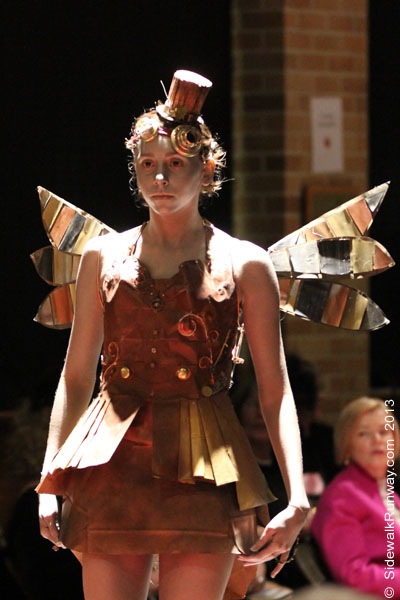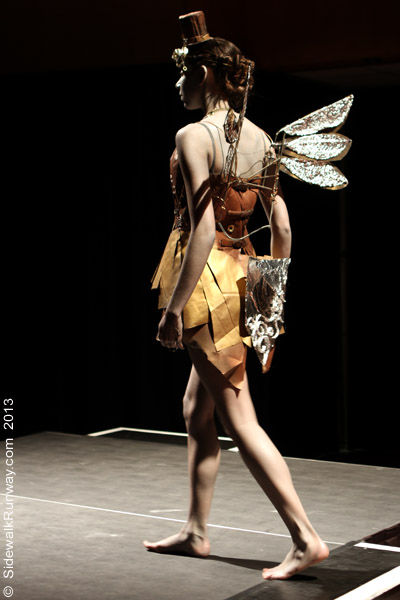 "The dress represents the struggles of mother earth. The design behind the dress is a sort of steampunk armour. It was made from reused
paper bags, various bits of old metal such as broken jewellery, watches, hot glue and spray paint." Designer Jesika Kula



4. What's Your Fortune?
---



































One hundred paper squares ranging in size from 4″x4″ to 20″x20″ were folded into paper fortune tellers. Paper fortune-telling is a popular
children's game…" Designer Hope Wallace



5. Blooming Picture
---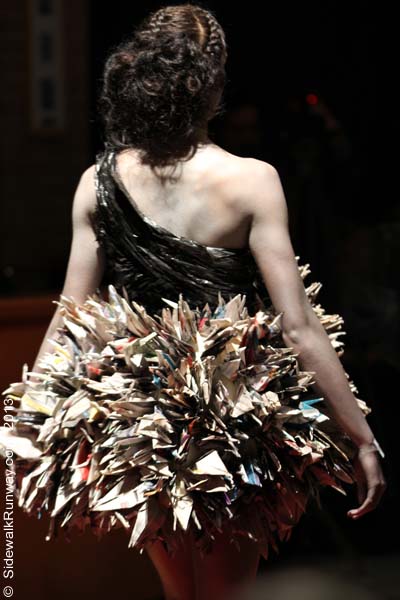 "My inspiration came from the fabled tale of '1000 Cranes.' The forbidding bleakness of black is lifted off the ground by an effortless
cloud of cranes… It was made with made with one IKEA catalog and plastic bags." Designer Dana Cho



Nested and Poly People
---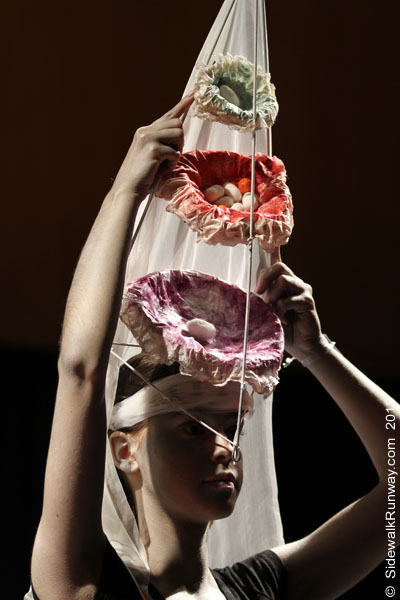 "The nests represent the three stages of a woman's life. Early-life as a single girl. Mid-life with the many demands of family and aging
parents. And late-life when women are often alone again… It's made from silk rovings, silk cocoons a metal frame and silk gauze." Designer
Freda Pagani

"Refuse Refuse: Poly People. Plastic is everywhere. If a product isn't made of plastic, it is wrapped in plastic. Plastic bags are blown
by the wind into a tree then out to sea where it collects in a vast vortex of waste. Made from polyethylene sheeting, plastic bags, plastic
bottles and other discarded plastics." Designer Nita Bowerman