It's easy to find local restaurants that serve the same food but the festival offers visitors a glimpse into Japanese culture. When I first attended the festival 3 – 4 years ago I saw a dozen women wearing Yukatas. I arrived late Sunday afternoon and sadly I have the feeling the "unspoken" dress code for women has grown more and more casual. One lady I spoke with simply didn't pack her Yukata when she moved to Vancouver.

As a person and a photographer I love the bright colors and detailed patterns. I learned there are many different ways to tie the Obi (sash) and different knots are used for different occasions. I also learned Kimonos are for formal ceremonies such as weddings. The photos below feature the summer style Yukata.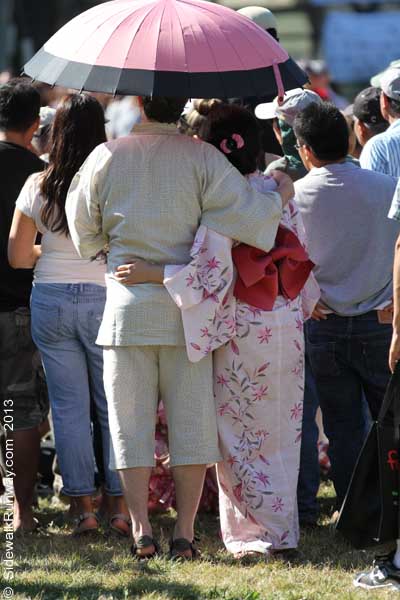 Nao's yukata
Yellow obi
This looked like an embroidered obi.
This one too.
Chihiro's yukata.
Coral & white obi.
Jodaiko Taiko drunning performance















































































































































































































































































Several of these images were featured in the Community section of the Asian Pacific Post newspaper.

Powell Street Festival images from 2012

Click Negma & and Maki to view their belly dance performance
Click Reiko to see her yukata
Click Chizuru to see her yukata