Good things come in small packages! Several days after we met at Eco Fashion Week I visited co-owners Courtney & Jigme at their 600 sq. foot boutique on Hornby St.


Q1- What would you like to share about yourselves?
A1- [Courtney] I've always loved fashion. I have degree from the Fashion Institute of Design & Merchandising in Los Angeles. When I lived in LA, I loved shopping at the cool, curated 2nd-hand stores, where you could buy clothing you knew was previously owned by celebrities and stylists.

A2- [Jigme] I got the idea for "Mine & Yours" shortly after completing my MBA. It was a great opportunity to combine my love of fashion, entrepreneurship and sustainability. When I was travelling through Paris I discovered an amazing 2nd-hand store called "Reciproque". It actually a series of little boutiques that occupy almost an entire city block. There were countless treasures and it was like the Louvre for fashion!


Q2- What's the story behind your name?
A2- Mine & Yours is essentially a closet exchange for the women of Vancouver, where they can buy, sell, and trade their fabulous clothing. At the store, what's "mine" is "yours", and vice versa!


Courtney (l) & Jigme (r)






































Q3- How long have you been open?
A3- Just a few weeks! We opened at the beginning of October.


Q4- What sets Mine & Yours apart from the competition?
A4- We are the only buy, sell & trade resale boutique in Vancouver. We pay cash up-front for clothing on Wednesdays, Fridays and Saturdays (no appointment is necessary). You'll find we have to have a well-edited collection because when we're making purchases we ask ourselves, "Is it on-trend?" "Is it good quality?" "Is it almost-new?" "Is it something me or my girlfriends would wear?"









































Q5- Tell me about your customers?
A5- We cater to everyone but we find our typical customer is a fashion-forward woman between 20 – 40 who's looking for a great deal.


Q6- Who are your style icons?
A6- We both really love Olivia Palermo's style. Olivia has a seriously enviable closet, and she always looks so well put-together!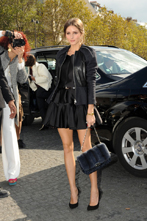 Q7- What are some labels you have on your racks at the moment?
A7- Theory, Vince, Missoni, Alice + Olivia, Isabel Marant, Marc Jacobs, Rag & Bone, DVF, as well as BCBG, Club Monaco and and Wilfred. We strive to offer 60 – 80% off the original price.



A highly sought after leather Vince shift dress





































Q8- What labels are you excited to see come across your buying counter?
A8- Right now we are buying for winter. We love seeing:
Cool chunky knit sweaters, and soft, flowy waterfall cardigans.
Mixed media in coats and dresses.
Big coats with cool shapes and dramatic necklines.
Leather, cashmere, and wool.
Fun, holiday dresses and cool blazers.
We are also buying printed pants and boyfriend jeans – they sell as quickly as they come in!


"Talk to the hand!"






































Q9- What else would you like to share?
A9- We are constantly entertaining and we really want people to feel at home at our store. We have a salon upstairs where we sometimes host trunk shows. We also have a mini pop-up photography studio where we style, model and photograph products. Since we buy clothes from fashion bloggers we also host blogger's forums. Our most recent discussion was how to monetize your blog.


Q10- What upcoming events are you hosting?
A10- We're having our official launch party on the weekend of Nov 1 – 3, where we will be serving up fashion, wine, and bargains! We'll have extended hours and we'll be offering 20% off everything in the store. It will be a wine & fashion event!



Please visit Mine & Yours at 1060 Hornby St. (near Nelson) or phone 604-620-8885