Did you miss the opening night of the Mine & Yours Launch party?

Don't despair! Their 20% off sale will continue through Sunday (Nov 3).

They will be serving wine, cheese and playing some cool tunes to celebrate their opening.

Please visit Mine & Yours at 1060 Hornby St. (near Nelson) or phone 604-620-8885. Or click Mine & Yours, my interview with… to read the inside scoop!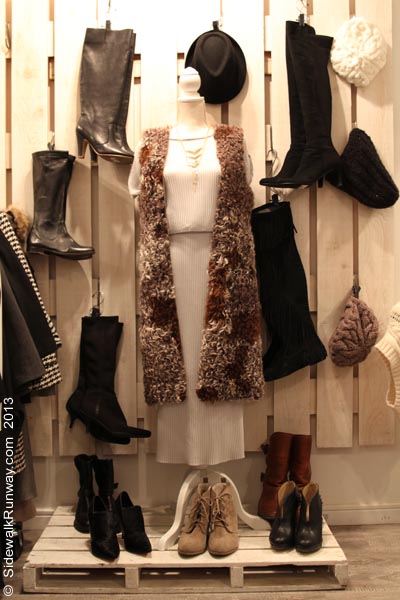 Joanna's wearing Asos ankle boots…
and a Club Monaco sweater and a Top Shop dress.









































































































After a month of sunny weather the rain returned with a vengeance Friday night. I arrived an hour before closing but
the ladies' were in a festive mood. The tunes were booming, the wine was flowing and before you know-it, we were doing an impromptu photo shoot. I couldn't think of a better way to spend a Friday night!



The Mine & Yours ladies: Courtney (l), Joanna (c) and Jigme (r)
Courtney's wearing a Naven skirt…
and ankle boots from Top Shop.
"Courtney, try on the Lanvin! Try on the Lanvin!"
Ok, I must be serious while I try on the Lanvin.
Jigme's wearing a Jill Stuart dress.

Mine & Yours earrings and necklace

…A rigourous quality inspection process!
You missed the dancing & prancing and singing to the music!