Mathematician, Model & Mommy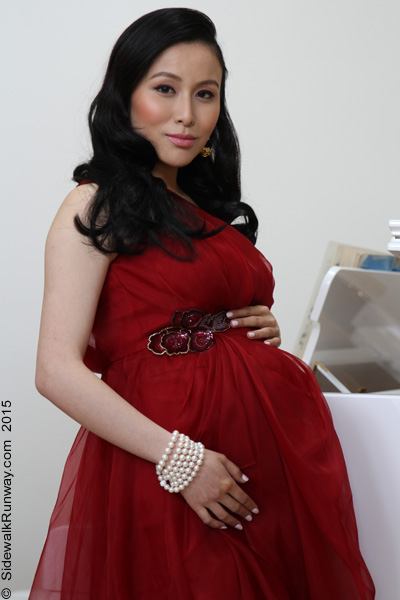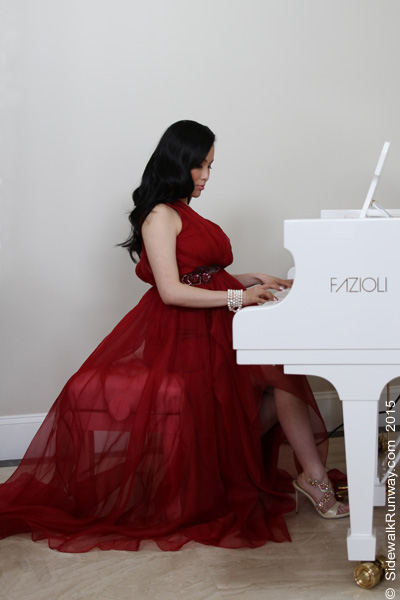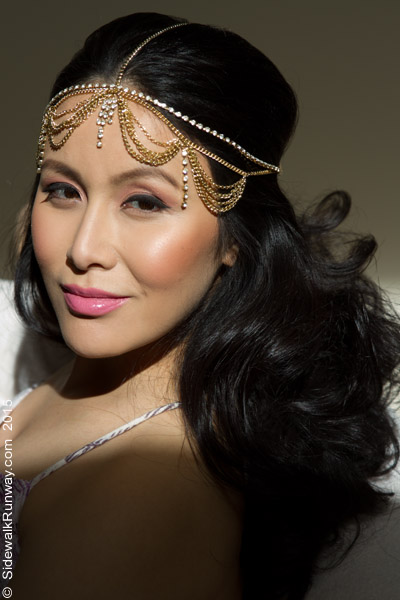 Alecia Repp, Fearless Makeup
James Valiant, Suki's










































































































































































The final season 1 Ultra Rich Asian Girls episode appeared on You Tube just before Christmas. Since then cast member Chelsea Jung has gotten married and is expecting the birth of her first child. We first met briefly in October 2014 during the show's first press conference. Click Press Conference to read my first interview with Chelsea.

With the drama and bling several months behind her we met at her suburban home in Richmond. Like most expectant moms she wanted photos to commemorate her pregnancy. She picked outfits that showed the elegant and comfortable sides of her personality.

To help with hair and make-up I contacted Suki's Senior Stylist extraordinaire, James Valiant and "Fearless Makeup" Artist Alecia Repp. James was amazing. With the wave of his hand (and a little hairspray) he created unique hairstyles for each outfit. Alecia did a flawless make-up job that looked great under daylight and camera flash conditions.

After 90-minutes of pampering we were ready to shoot. Both James and Alecia stood by to assist with touch-ups. The morning flew by and by early afternoon we were saying our goodbyes. To give Chelsea a chance to rest I did her interview by phone later that evening.

Q01 – Looking back, what are your thoughts about the Ultra Rich Asian Girls series?
CJ- I thought the series would show the healthy lifestyles people lead in Vancouver. Instead it was more drama and less lifestyle.

Q02 – Towards the end of the series you became supportive of cast member CocoParis. Did your maternal instincts bring about this change?
CJ- The show wasn't scripted and I was always supportive. It looked like I changed due to editing.

Q03 – How did your pregnancy affect the show?
CJ- I stopped drinking. People are quick to judge based on your appearance and clothes. I began to care less about those things. I also started thinking about saving money for my son, my family and my health.

Q04 – You moved comfortably from pose to pose earlier today. Have you modeled before?
CJ- No, I just took pictures with my family and friends. But Fazioli did use my picture for one of their ads.

Q05 – Who do you admire and why?
CJ- Victoria Beckham and Heidi Klum. They are moms and successful fashion entrepreneurs.

Q06 – In October you expressed a desire to start a clothing line. Is that still a goal on your horizon?
CJ- My line involved traveling to China to find a manufacturer. I stopped traveling and my focus is on my son and a career that can provide for my family.

Q07 – You graduated from UBC with a mathematics' degree, how does that fit into your future?
CJ- I thought I would be an Accountant but my degree proved I had the potential to do what I want. So I don't see any limits. I would like to get a Masters' in business to see what options are available.

Q08 – On a personal note, do you have any brothers or sisters?
CJ- No, just me.

Q09 – Where were you born?
CJ- I was born in Ottawa, but grew up in Beijing. I moved back to Ottawa at 14. I moved to Vancouver to attend UBC.

Q10 – In closing is there anything else you would like people to know about you?
CJ- I just want to be a good mom and support my family. I also want to lead a healthy lifestyle. Just because I'm pregnant I'm not going crazy with cake and ice cream. I'm active, I walk everyday and I have prenatal workouts twice a week.


Chelsea's elegant outfit:

Earrings: Versace
Dress: Neiman Marcus
Heels: Rene Caovilla

Casual outfit:
Dress: Zadig & Voltaire
Headdress: BCBG