Beware of a wolf in couture clothing!

When is a fashion show not a fashion show? When it's Brilliant!

The sold out annual event dazzled the Commodore Ballroom audience. Ticket sales, live auction and pledges raised $450,000 for St. Paul's Hospital, mental health and addiction programs. A private donor, who wished to remain anonymous donated a staggering $1M!

Under the creative leadership of Dean Thullner, a volunteer army stylists, models, dancers and musicians volunteered their time and unleashed their creativity to host a memorable event. This year's theme reinterpreted and modernized the classic fairy tales. The theme was, "Inspired by those who've battled villains [mental health and addiction] to emerge the hero of their own fairy tale."

Click Brilliant 2014 to view last year's theme.

Doors opened at 7:00pm. The live auction started at 7:45pm. The show started at 8:30pm and ended at 10:00pm. As guests lingered, the tables and chairs were cleared so everyone could dance to the music of DJ Leanne.


Brilliant is the perfect event for that little black dress hiding in your closet.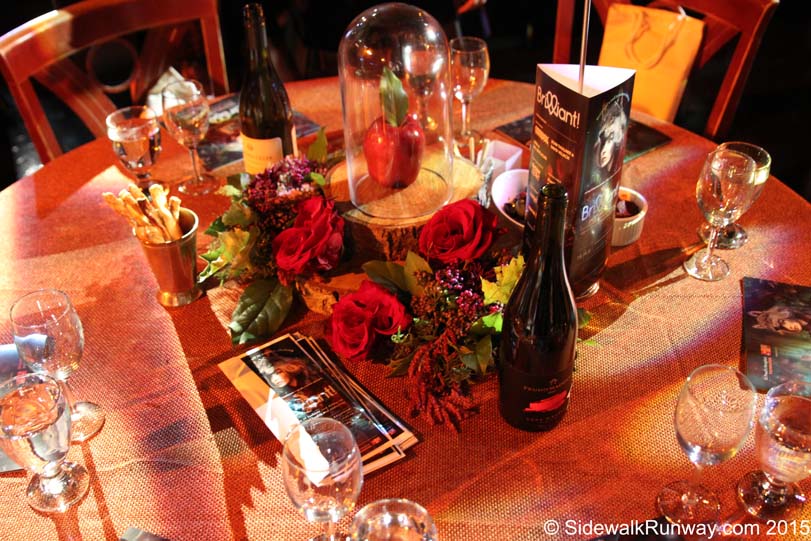 Some of the endless supply of mouth-watering appetizers served till 7:45pm.
Event Producer, Dean Thullner welcomed everyone with a few opening remarks.






































































































































Live Auction
---

The following prizes were generously donated to raise money for the event:

Hawaii, Here We Come – Westjet will fly two winners anywhere they fly. Included is a three night stay at Turtle Bay Resort in Oahu, Hawaii. The donated package is valued at $2,800 but the winning bid raised $4,500.

You're the Princess – Jennifer Kappler of de volk & gosche will custom design a couture ball gown for the winner. Accessories from Hudson's Bay and shoes from Lord's Shoes are included. An Absolute Spa visit as well as hair and makeup at in.Salon are also included along with dinner at Joe Fortes restaurant! The donated package is valued at $4,500 but the winning bid raised $8,000.

Be One with Nature – The winner will enjoy a two night's accommodation for two at the world-famous Painter's Lodge resort, in Campbell River, BC. The donated package is valued at $1,700 but the winning bid raised $2,500.

Pamper your Taste Buds – Eight guests will enjoy a private in-home multi-course dining experience, catered by Scarpetta Dining, owned by Chef Alessandro Vianello. The donated package wasn't priced but the winning bid raised $6,500.

Artwork by John Ferrie: "The Manhattan" – 36″ x 36″ acrylic canvas painting, stylized in jewel-toned expression. The donated painting was valued at $2,500 but the winning bid raised $8,500.
Dick Vollet: President & CEO, St. Paul's, Fionna Forbes: Emcee
Good humored Auctioneer: Howard Blank








































































Opening Performance
---
Molly, accompanied by Jay sang an adaptation of "Don't Cry for Me Argentina".


Molly Wilson
Jay Juatco









































01. Alice's Adventures in Wonderland
---
I'm late, I'm late for a very important date.


Designer: KPU Wilson School of Design
Salons: Black2Blond & Capelli Salon d. Martino
Makeup By: La Biosthetique


Did you notice the pink, blue and yellow braids in Alice's hair?


































































































02. The Gingerbread Man
---
Run, run as fast as you can! You can't catch me!


Designer: Joey Dimz
Salon: The Jefferson Barber Shop
Makeup Lead: Tanya Tesselaar


A saucy dance routine welcomed men's fashion to the runway.










































03. The Little Mermaid
---
Somewhere under the sea and beyond your imagination…


Designer: Zollection
Salon: High Fidelity Hair
Makeup Lead: Deanna Goundan














































































































The Frog Prince
---
Dance routine

































04. The Swan Princess
---
A vow of everlasting love that's proven to the world.


Designer: BHANA Design Co.
Salon: VolLu.Tion Salon
Makeup Lead: Breanna Gordon












































































05. Cinderella
---
Even miracles take a little time…


Designer: Nina Tan Design Inc.
Salons: is.Salon
Makeup Lead: Derek Lauscher


A barefoot Cinderella graced the stage. Two of her three elegantly dressed evil sisters were characterized by smeared and smudged lipstick.









































































The Emperor's New Clothes
---
Saxophonist Eli Bennett and violinist Rosemary Siemens performed with squad of modern dancers.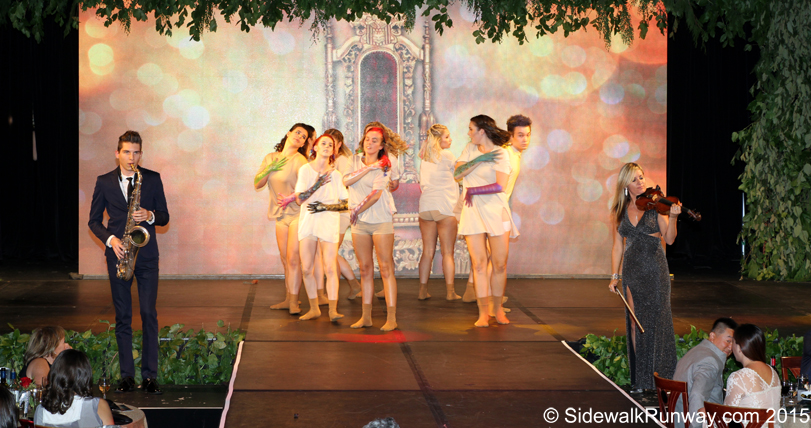 06. The Water of Life
---
Prince, whither so fast?


Designer: Maegan Ashley Lyons
Salon: Salon Origin
Makeup Lead: Yolande Gaymes














































































































Rapunzel – R!c's #2 Dance Pic
---
Let down your hair, so I may climb the golden stair.


Harbour Dance Co.
Choreographers: Julio Fuentes
Designer: Nicole Guzzo
Makeup Lead: Autumn Blake
Hair: Blanche McDonald & Abantu


Playing on the theme of Rapunzel's long hair, a squad of dancers took the stage with thigh length blonde, brunette and red hair.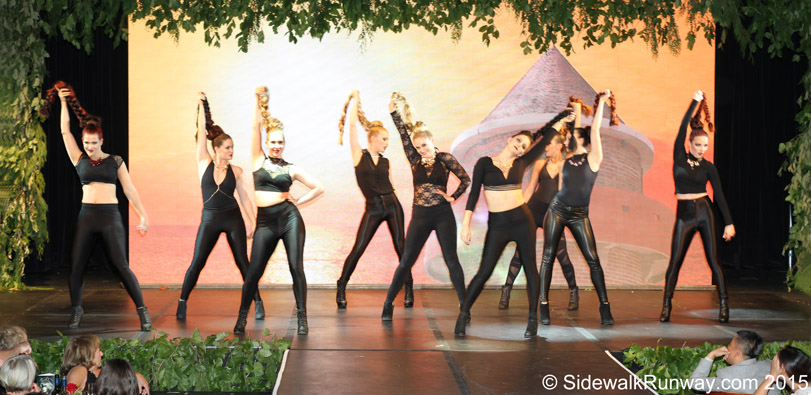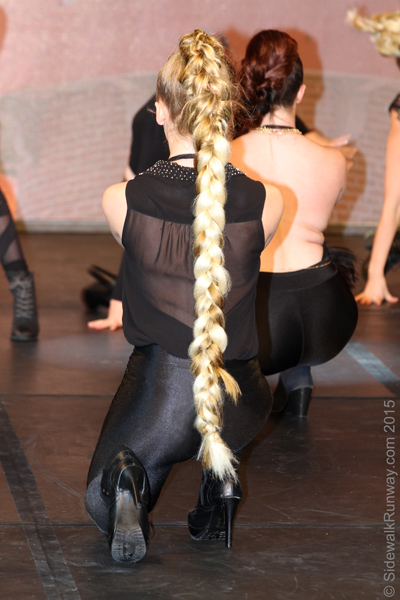 Sleeping Beauty
---
Awaken to a world of wonders.


Designer: Oddmint Designs
Salon: Headspace Hair Salon
Makeup Lead: Kylie Beeton





































































































The Ugly Duckling
---
Dance routine










































08. Little Red Riding Hood – R!c's #1 Fashion Pic
---
All the better to eat you with…


Designer: de volk & gosche
Salon: in.Salon
Makeup Lead: Derek Lauscher


This was my favorite segment of the entire evening. The gowns, styling and story were all amazing. The dresses and gowns were a cohesive collection but varied enough to keep your attention. The bustier and jacket fit with the one shoulder mini dress which also fit with the full-length evening gowns. I love the antlers, jeweled facial decorations and flowers braided into some model's hair. And don't overlook the alternating red and black gloves. To modernize the classic fairy tale the Big Bad Wolf proposed to Little Red Riding Hood instead of trying to eat her. What a wonderful twist!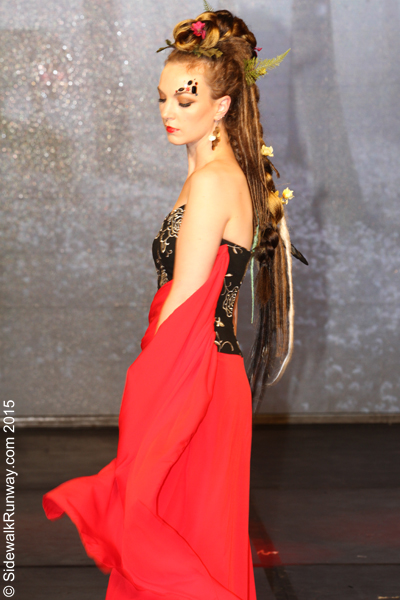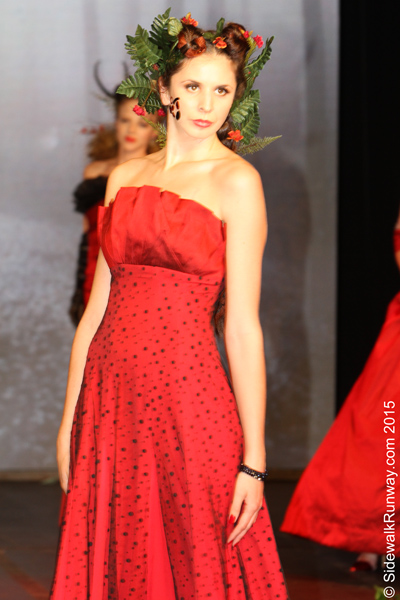 09. Snow White and the Seven Dwarfs – R!c's #2 Fashion Pic
---
Magic mirror on the wall, who is the fairest one of all?


Designer: Protagonist Menswear, Samantha Stroman, Carolyn Bruce Designs
Salon: Volume Studio Gallery
Makeup Lead: Tanya Tesselaar


This was my second favorite story of the evening. I enjoyed seeing the eclectic outfits and styling of the Seven Dwarfs. The Afro-Canadian casting of Snow White was a nice modernization of the classic fairy tale.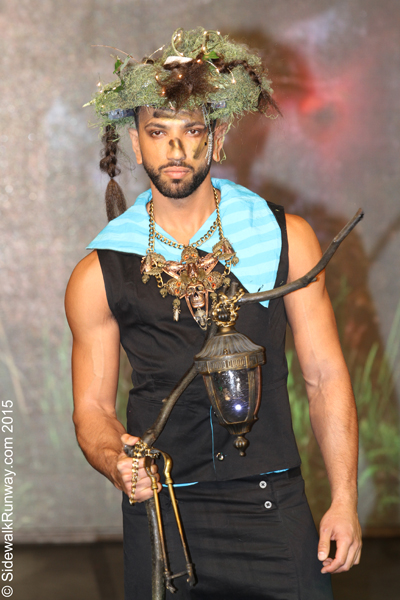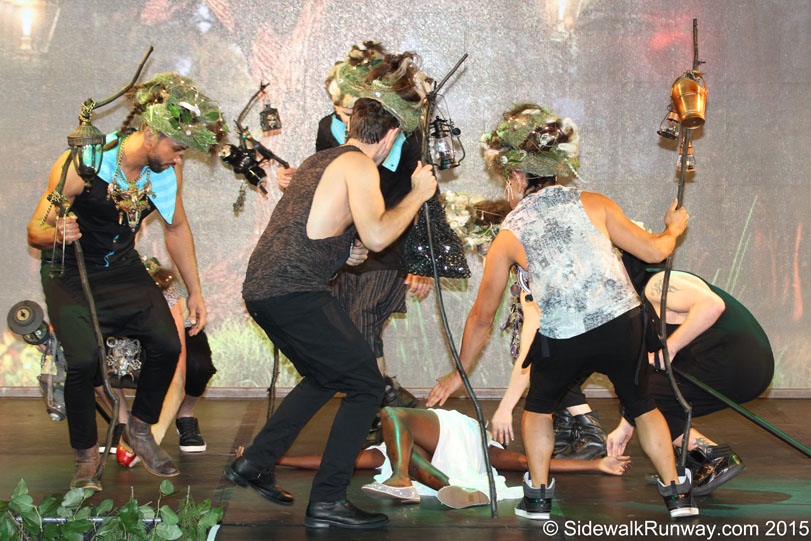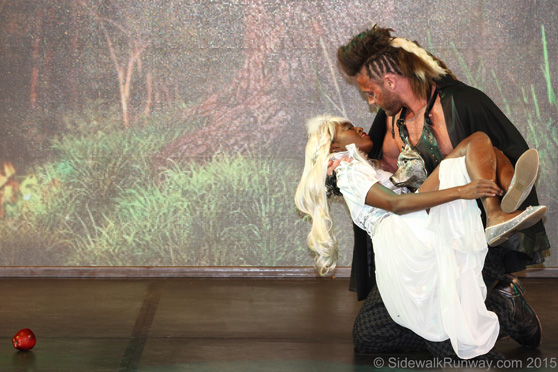 Dr. Jekyll & Mr. Hyde – R!c's #1 Dance Pic
---
It is one thing to mortify curiosity, but another to conquer it.


Harbour Dance Co.
Choreographers: Richie Lubaton & Shauna Smith
Designer: Nicole Guzzo
Makeup Lead: Autumn Blake
Hair: Blanche McDonald


I wish I had more images for this routine because it was amazing. Dr. Jekyll and Mr. Hyde is characterized by an individual with a split personality. To symbolize the good doctor, the lead dancer took the stage wearing a long black trench coat. The music and break dance style was controlled and the squad danced in unison. Then abruptly part way through the routine the music and break dance style changed completely. The lead dancer threw his coat offstage and adopted a frantic solo break dance routine to symbolize the evil Mr. Hyde. It truly impressed the audience!










































10. Beauty & the Beast
---
I know how it feels to be different…


Designer: The House Gallery Boutique
Salon: The Lounge Hair Studio
Makeup Lead: Steven Carty












































































11. Hansel & Gretel – R!c's #3 Fashion Pic
---
Crunch, Crunch, Crunch! Who is nibbling at my house?


Designer: Tia Zen Bai Zhen
Salon: Sugar Skull Studio
Makeup Lead: Katerina Taylor


Granted the fashion was lingerie and simple styling (in some cases). However, I liked how the candy coated fairy tale inspired the brightly colored outfits.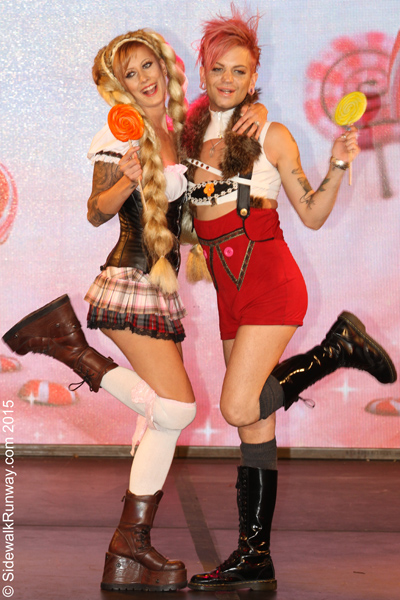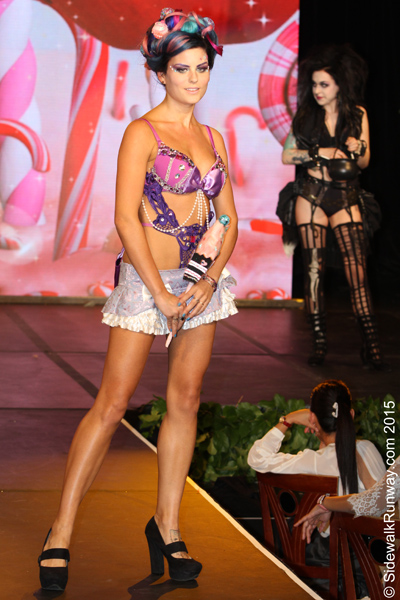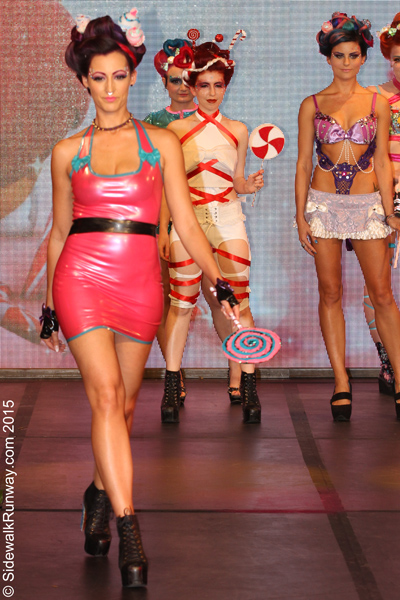 The Pied Piper
---
Like the Pied Piper, singer Warren Dean Flandez lead a dance routine with a groovy, 70's style song.





































































12. Robin Hood
---
There are no perfect men in the world; only perfect intentions.


Designer: CICINO, StyleByDona (Lead Fashion Stylist for Brilliant)
Salon: Union Salon
Makeup Lead: Natalia Blanc






































































Seen @ the Show
---
It's fun to turn my camera to the well dressed guests in the audience. Once the show has ended, the models are more relaxed and it it fun to capture their playful moods.



Actress and Model Therés Amee
Eco Fashion Week Founder, Myriam Laroche

Cinderella Designer, Stephanie Hung of Nina Tan Designs (center)
The La Biosthetique team including: Michelle Phaneuf and Phillip Jung
Far left: Julian Naidoo and far right: Kamantha Naidoo