I truly feel lucky to have been part of this amazing event because Nordstrom demonstrated what it means to "Go big or go home!"

The event took place on a scale I've yet to see in Vancouver. The August 19 Glowbal Grand Opening was very enjoyable but tonight's event simply had more to offer. Guests were treated to: 1) A red carpet cocktail reception in the Vancouver Art Gallery (VAG), 2) A fashion show at Robson Square and 3) An exclusive look at the flagship store before it was open to the public.

2,500 guests bought tickets to the sold out event to attended the exclusive opening raising an estimated $420,000 to benefit the following local charities: BC Children's Hospital Foundation, BC Women's Hospital + Health Centre Foundation, Covenant House Vancouver and the VAG.




Red Carpet
---
5:30 – 7:00pm – Four generations of the Nordstrom family, charity organizers, international supermodels and local personalities posed for photos on the red carpeted media. The VAG's lobby quickly swelled to capacity. Guests came dressed to impress. Women wore designer dresses and gowns. Men wore suits and a couple came dressed in black tie. Guests were treated to drinks and hors d'oeuvres as they waited for the fashion show to begin.


Crystal's wearing Greta Constantine from Wardrobe Apparel
Eleni and Zahra candid…
Eleni and Zahra posed…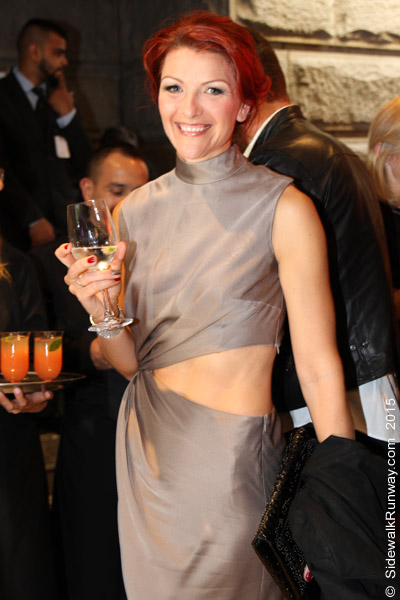 Nordstrom Campaign Ambassador & Supermodel Coco Rocha
Actress and Supermodel Karolina Kurkova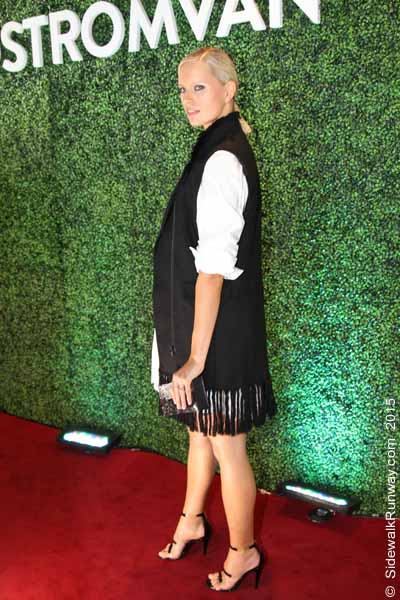 Back row, Nordstrom family executives (l to r): Jamie, Blake, Erik, Pete and Chris Wanlass
Front row, VAG: Kathleen Bartels and Bruce Munro Wright
Front row: Laurie Clarke, Tamara Taggart, Dr. Jan Christilaw
Sam, Erik & Julie Nordstrom
Tom Wells, Chris Wanlass and Karen McKibbin, President of Nordstrom Canada
The red carpet ran through the VAG and guided guests to the fashion show.






























































































































































































































































































































































































































































Seen @ the Show
---
Organizers transformed Robson Square!

7:00 – 7:30pm – Well known for ice skating in the winter and salsa dancing in the summer, the popular venue became a world class runway. The rink's railings were removed to add seating. A giant tent was erected so the staircase could be incorporated into the runway. The lighting was even and flawless for the entire runway. While I didn't check the time, the show started after guests mixed, mingled and posed for photos.


Jackie is a local business owner and a Campaign Ambassador.
That's her featured in the Nordstrom "We Like Your Style" ad!
Gala Co-Chair Jason Sarai, Style By Sarai and his wife Natasha
Shay Merritt
Tamara Taggart (center), CTV news Co-Anchor; with Dr. Jan Christilaw (right), BC Women's Hospital + Health Care Foundation President
Coco (a new mom) is probably giving Karolina (an expectant mom) some tips!
Supermodel Amber Valletta




















































































































































































































































































Runway
---
The Media Pit is typically at the end of the runway…

Since the runway served as the entrance and the exit for the venue, organizers stationed the media behind seated guests. As a single individual, I was permitted to stand at the end of the runway.

Various pieces could be easily worn to work, dinner or galas in Vancouver. Mission accomplished Nordstrom! While the collections were impressive, none pushed the boundaries! In a word, the show was "safe". No, I'm NOT suggesting models should have worn avant garde or barely there art pieces. However I wanted Nordstrom to show me something new or something unique. Even the late legendary Alexander McQueen's collection was mainstream. A bomber jacket was the only piece in his collection that hinted at something trendy.

The Space Collection, curated by Olivia Kim featured four designers with youthful trendy pieces. I absolutely adored Anthony Vaccarello's black one shoulder dress with what appears to be a belted top. Needless to say I've cherry picked my favorite pieces for the post below. Enjoy!

Scene 1: Valentino 2 of 8 pieces
I'm loving the Rock Studs!
Scene 2: Burberry Prorsum 2 of 5 pieces, See the camo boots?

Scene 3: 3 Men's Wear Designers, J.W. Anderson shown above

Scene 4: Alexander McQueen 2 of 6 pieces

Scene 5: The Space Collection, Anthony Vaccarello shown above
Space: Simone Rocha
Scene 6: Stella McCartney 2 of 8 pieces
I love the flared coat and pants.
Scene 7: Saint Laurent 2 of 5 pieces
A sexy sweetheart dress. The tulle underskirt is removable.
Scene 8: Chloe 2 of 6 pieces

Scene 9: 4 Men's Wear Designers, J.W. Anderson shown above
Rick Owens
Scene 10: Balenciaga 2 of 6 pieces
I love the single semi gloss lapel and belted waist!
Scene 11: Marc Jacobs 2 of 7 pieces

Scene 12: Evening Gown Designers, Bibhu Mohapatra shown above
Kaufman Franco
Scene 12: Kaufman Franco
Oscar De La Renta
Bibhu Mohapatra again. The train connects at the shoulders!
Marc Jacobs up close
An endless stream of guests
Organizers moved the coat check from inside the VAG to a tent along the route to Nordstrom. Smart thinking!






























































































































































































































































































































































































































































































































































































































Ready, Set, Shop!
---
The weather was perfect for a stroll across the street to the new flagship store.

7:30 – 10:30pm – Again, kudos to organizers for their foresight and planning. Guests, parked once and visited three venues! The VAG lobby was a bit too cozy for a large crowd and everyone was seated during the fashion show. However the store gave guests three floors of unlimited space to mix and mingle.

Organizers spared no expense to make the evening memorable:
A DJ was located outside and another inside the store on the 2nd floor.
Models (not featured in the runway show) wore outfits and roamed the store while others posed as mannequins.
The upbeat dance music of Sean Jones and his four piece band kept guests dancing all night.
Guests were provided an endless stream of appetizers, drinks and desserts.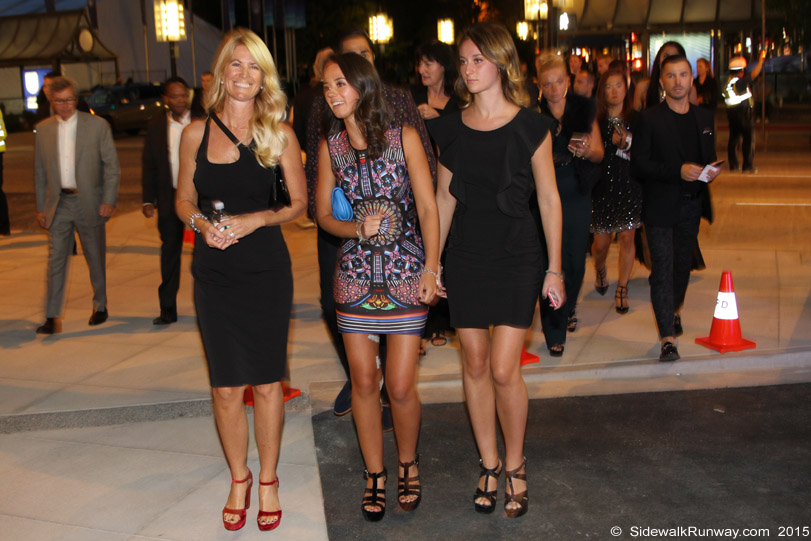 Models posed as mannequins
While they didn't talk, they did smile on occasion.
Lauren a model, interacted with guests.
I saw her on the runway at the Luxury Supercar Weekend!
In front of the camera people ask, "What should I do?"
Without prompting, Lauren gave me six poses in six seconds!
Sean Jones' band played Bruno Mars, Pharrell Williams, reggae and Motown to keep guests kicking up their heels in the shoe department!
I turned around and Karolina was there!
After the fact I can think of a million things to say/ask.
Tamara Taggart (center), CTV news Co-Anchor
Sophie Lui (right), Global BC news Co-Anchor
Robin Reichman, reality TV personality
Several women copied Robin's idea and posed with the models.
Jagdeesh, Asian Pacific Post; Kanika, Lucky & Bikki, Menswear Designer
Crystal, Crystal, Andy and Christie, Style Nine to Five
Back…
to back…
to back coverage!
Marissa bought her dress in a London boutique.
Trisha is a scientist…
and her husband doesn't like this dress! You go girl!

Shalzin manages one of the cosmetic lines.
Joy & Randa
Randa's a fashion blogger and wearing a Gentle Fawn dress
Fran is back from holiday and anxious to design her 1st collection.
She loves her smoking jacket!
Lisa came from Seattle to attend the opening. She's wearing a…
Chanel necklace, Fendi clutch and a Celine dress. Lovely smile!
Looks likes a night club, but it's Habitant on the 2nd floor! I was too busy to stop but they serve: appetizers, beer, wine and cocktails. Open every night till 9pm (7pm on Sunday).

It's a brilliant concept. Girlfriends can 'shop till they drop' then refuel with a salad and a drink. Husbands and boyfriends reluctant to shop with their wives and girlfriends can have a beer while watching TV!
Crystal & Christie's dresses came from Wardrobe Apparel. Crystal's Greta Constantine was my favorite of the evening!
Trisha and her girlfriend

Cindy
Lexi
In heels Lexi stands about 6'1″ or 6'2″!
I met Cindy at the Rachel Zoe fashion show in 2012.
Jason Matlo, Designer & Wen-chee Liu his Chef d'Atelier
Andy Chu, FMA & ARC2 Entertainment Founder & friend
Crystal Carson, Stylist/Media Personality &
Tyson Villeneuve, The Social Concierge
Toronto-based recording artist Sean Jones looks great
after 3 hours of singing!






































































































































































































































































































































































































































































































































































































































































































































































































































































































































































Several of these images were featured in the Community section of the Asian Pacific Post newspaper.