In Hot Pursuit of The Haute Pursuit

My friend Alina sent me the following Facebook message late Saturday night, "Vanessa Hong will be at Nordstrom Sunday." It took me a second to realize she meant the Instagram Blogger, "The Haute Pursuit". I checked the Nordstrom Event page and cleared my schedule for the afternoon.

As of Thursday morning (12.17) her Instagram selfie shot at Nordstrom Vancouver has received 7,220 likes. Her followers are increasing daily but at the moment she has 490,000 followers. Vanessa travels the world and frequently posts photos from LA, NYC, Paris and Beijing but she grew up in Vancouver and graduated from UBC.

Her site is filled with eye catching, fashion photos that possess artistic and minimalistic qualities. Most of her shots are arranged but some are serendipitous. Her images can be VERY sensual but everything is confident and classy.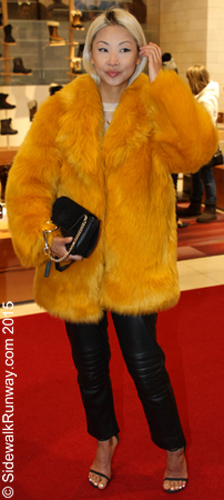 This is Vanessa's first venture into fashion design. Her faux fur Boxy Coats are incredibly soft and provide a pop of color for any outfit. They cover a broad spectrum of colors and have playful names as shown below.

She started with the desire to make something for herself and the retail aspect evolved from there.

She's involved in every aspect of design and she's actually traveled to the manufacturing plant in China.

Her coats are produced in small lots to ensure the quality remains high. For example the coat's lining is hand stitched.

Her coats have an oversized appearance but they are NOT designed for big bulky sweaters. According to Vanessa, her friends kept warm during a chilly NY Fashion Week while wearing lightweight skirts and blouses.

Her collection was inspired by 1990's Hip Hop icons such as Hype Williams, Missy Elliott and Lil Kim.

Her coats and stoles will be featured the Nordstrom Pop In Shop till January 2nd. I speculate her coats will move to another Nordstrom Vancouver department but they can always be purchased on her www.thehautepursuit.com website.

Here's a link to her Instagram account: @thehautepursuit

The Pop In Store in located near Nordstrom's Georgia St. entrance.
Baby Pink
Chubby Stoles: Tweety (back), Emerald, Olive & Marigold
Colors: Marigold, Emerald, Olive…
Colors: Tweety (as in Tweet Bird yellow), Baby Blue, Cookie (as in Cookie Monster azure blue)