Fashionistas Pam & Linda attending the grand opening

The weather was perfect for a grand opening. It was warm, sunny and lots of people were strolling along Robson St.

James and Alice stepped outside to greet people with Couturist post cards.

Chin soon followed with a tray of bite sized brownies, coconut balls and croissants.

However the promise of red, white and sparkling wine seemed to be the most effective means to encourage shy Vancouverites to step inside.

Just inside the door, DJ Eddie Rolando had his digital turntables and laptop set up. The upbeat dance music could have been much louder but I guess Bland-couver has a regulation against playing music that can be heard from from the sidewalk.

Alice alternated between outside and inside. Inside she resumed her role as bartender and spokesperson for Winestains. Juice and sparking water were also served. In a moment of creativity I asked for glass of red and Prosecco. The mixture was quite tasty, dry yet bubbly.

A steady stream of walk in customers visited throughout the afternoon. I recognized several people from various fashion events while others were friends of Vicky and Riko's.

This highlight of the afternoon came from the winner of the $100 gift certificate. Read below to see what happened!










Riko, Couturist Owner
Vicky, Couturist Owner
Ariel made a brief appearance
Myriam modeling a Couturist dress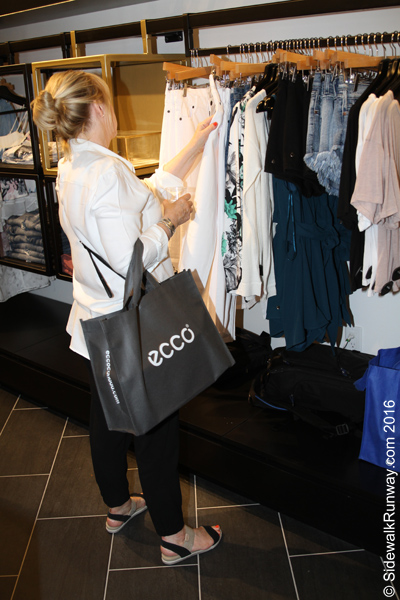 Laura doing a bit of shopping
Nyawal
Judy was walking along Robson St. and decided to stop in for a quick visit. To her surprise she won the one and only $100 gift certificate giveaway! A week before she lost her favorite ring. Today she replaced her ring and had enough left over to buy a necklace!

Andy

Andy bought a Half United necklace. Half United donates HALF of all of profits to fight global hunger.
Pam
Afsaneh
DJ Eddie Rolando
Alice, Bartender…
Serving red, white & sparkling wine from Winestains
Fazilah, Riko, Filza and Vicky (l to r)
Bouchra
Chin striking a pose!
James, Couturist Owner, Vicky Couturist Owner and Alice, provided the PR for today's grand opening
It was warm but James wore a jacket!
Bartender, PR and now Robson St. Greeter
The sunlight brought out Alice's…
Purple and eggplant highlights