I've been to many fashion shows over several years and rarely have I seen someone (and her team) pull-off such an amazing feat on their first attempt. Hannah Middleton's 2016 collection gave me a new way to think of swimwear. A Middle Eastern thread ran through the entire event. Some models wore nose rings while others had henna painted hands. Even the names of the suits had Arabic sounding names. The lighting was flawless at certain points on the runway and the models and their makeup were amazing.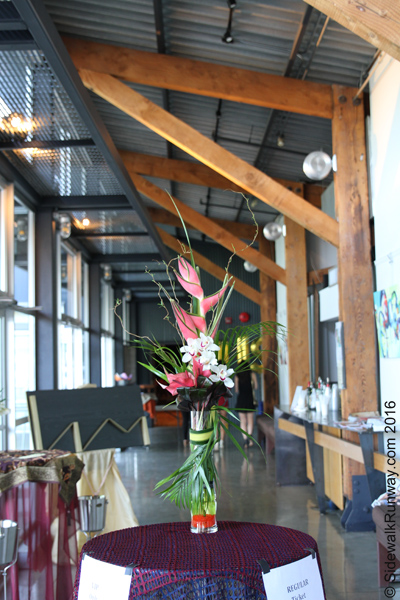 Josie created the elaborate decorations for the mailing list drop box.

































































































Seen Before the Show
---
Hannah unveiled 30 pieces of her 2016 collection at Granville Island's Performance Works. Despite the warm sunny weather tempting people to remain outside, the turnout was quite good. Guests mixed, mingled and sipped drinks until the performance hall doors opened at 7:30pm. Quite a few women opted for the complementary henna hand painting. Others posed for photos in front of the media wall.


Hannah's mom, Andrew (dad) and Josie
Nathalie modeling a pair of wooden sunglasses made by Andrew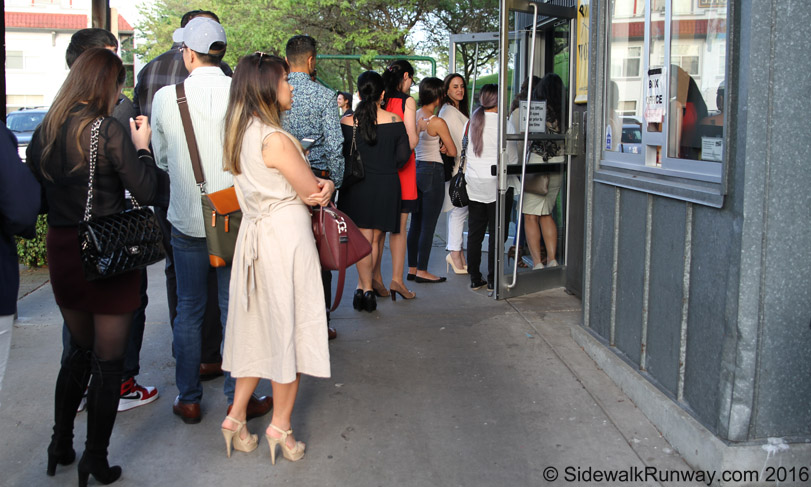 Click Anna to see my shoot with Miss Russian Vancouver
Emma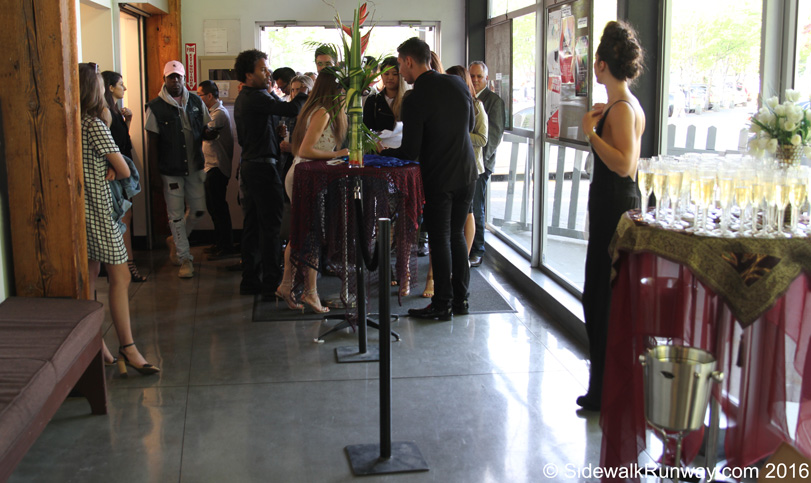 Kelsey at the Box Office

He's making a list and checking it twice!
Yum, these were like chocolate covered cupcakes on a stick!

Alan Chu's mini scoops of baklava flavored ice cream was a hit with the crowd
X-Pressions Esthetique was lightning fast with the henna decorations. Quite a few guests had their hands adorned with intricate designs.
Tenanye sitting pretty after her henna decorations
Jessica Luxe, Style Blogger
Anita
Christina, Catherine and Eunice
Setare
Nehal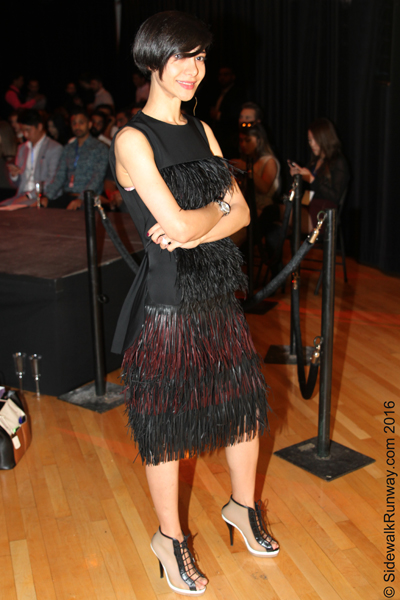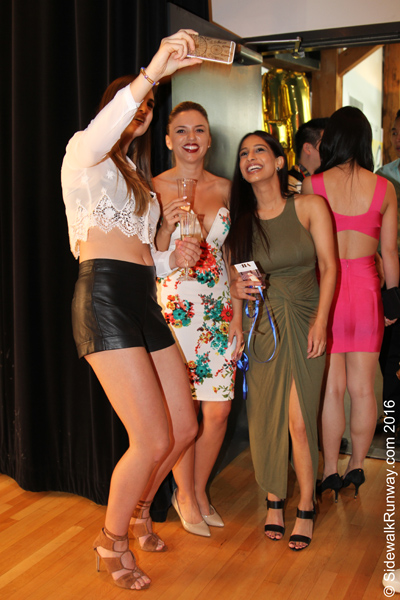 DJ Justin Boissonault is about to get the party started!




















































































































































































































































































































































































































































































































































































































Ashley Dance
---
The raised runway formed the shape of the letter X. A small platform was thoughtfully reserved for Media at the ends of both runways. At 8:30pm the DJ asked everyone to take their seats. The lights dimmed and the show started with a belly dance routine. For a brief moment she stood motionless while she moved her abdominal muscles to the beat of the music! The audience loved the performance. Primed and ready the fashion show began without delay.











































The Malakiy'ya Collection
---
Hailey Afton Porter, also known as Evan Clayton's runway muse has begun designing jewelry. If you look closely, you'll notice the models are wearing handmade, body chain jewelry that wonderfully complements Hannah's swimwear.


This collection was a sophisticated mix of tiny bits of fabric magically held together with intricate lacing. A suit that appeared one way from the front looked different from the side and quite different from the back. It didn't take long for the audience to begin cheering as certain suits appeared. I was particularly drawn to the Amira and the Rasha.


It's worth noting the model's skin tones ranged from creamy white to coco brown to dark chocolate. They ranged in size from petite to pleasingly plump!


Aaliyah – A mock two piece with a lace up top and…
high waisted lace up Brazilian bottoms.
Zahra – A lace-front crop top and…
draped silk rope lace up thong bottoms.
Rasha – A crisscross halter top and…
high cut thong bottoms
Shabahang – An ultra deep V neckline
Amira – A silk rope lace halter top and peekaboo front
Zeinah – Exposed lace up front detail and…
a racer back
Amar – A halter top and side laced Brazilian bottoms
Iesha – A rope crisscross halter top and side lace, low rise Brazilian bottoms

Feroz – Yes, Hannah's added men's pieces to her 2016 collection
































































































































































































































































Hannah Speaks
---

I've had the opportunity to interview Hannah and feature one of her 2015 suits on my blog.

Click Nakita for the beach shoot and click Laura for the Ring Girl shoot.


At the end of the first collection, Hannah used video clip to introduce herself to the audience. She mentioned she handpicked all the models so they would reflect the diversity of life. For inspiration she drew on her childhood when she and her family lived briefly in Turkey. Also, she was unapologetic about the daring designs meant to grab attention at the pool, beach or boat deck.































The Empire Collection
---
These pieces looked a more like the traditional two piece bikinis. However crisscross patterns, brightly colored trim and backless designs offered guests a different perspective. I really liked the high waisted and geometrical patterns on the Amoura. However, my favorite was the super sexy, 'barely there' Haifa.


Kayana – Bandeau top and choker with Brazilian bottoms
Mahta – Drop down waist detail and thong bottoms
Ashia – Multi-cage top and…
geometric high-waisted Brazilian bottoms
Haifa – Two piece with choker and…
double-strap thong bottoms
Amoura – Triange top with choker and…
high-waisted Brazilian bottoms
Farrah – Multi cage top and Brazilian bottoms with waist strap detail
Ayperi – Drop down waist detail and thong bottoms
Amoura – Triangle top and high-waisted Brazilian bottoms
Honeyeh – Brazilian bottoms with waist strap detail
Haifa – Again, upclose
Hannah Middleton, Swimwear Designer































































































































































































































































Seen After the Show
---
After the runway show ended I was struck by how comfortable the models were in their swimwear. They easily mixed and mingled with the audience, family and friends. They posed for photos and everyone gradually made their way to the after party at the Sand Bar.


To order a suit of your own, visit Hanna Middleton Swim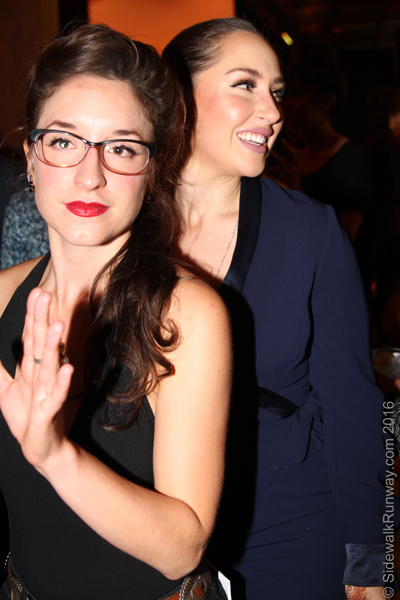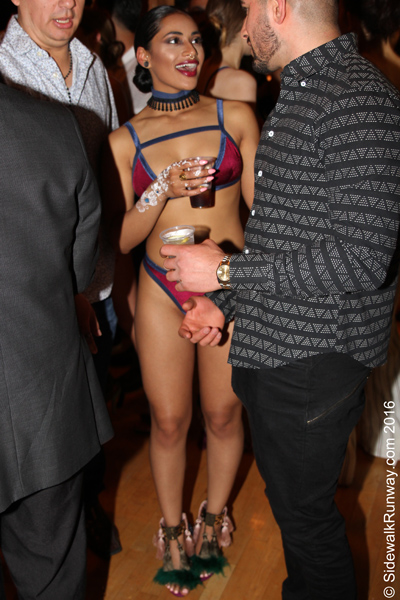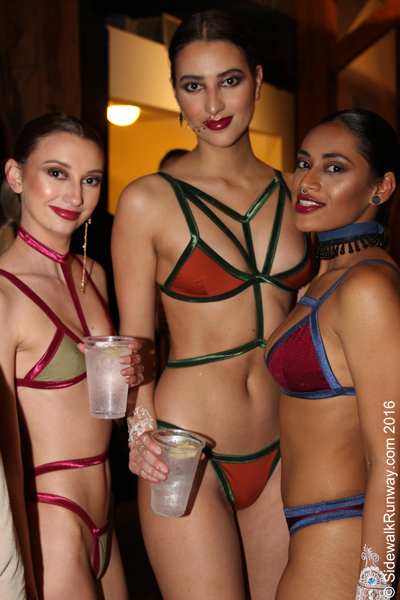 Rebecca, Andrew (dad), Alesha and Kelsey

Zoranh & Kim
Tenanye
Nicole organized Vanstyle which featured Hannah's 2015 collection
Mom, Rebecca (sister) and Hannah