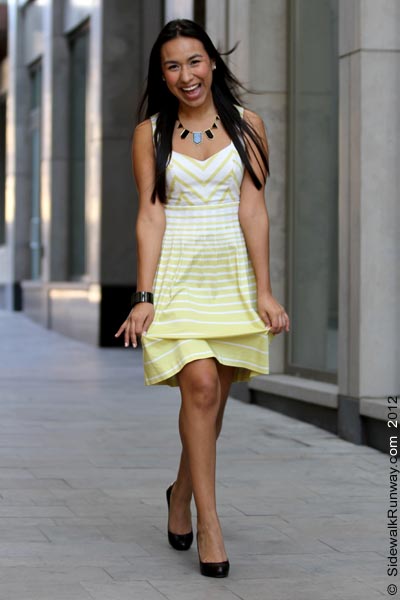 Hi Paola-
Q- What are you wearing today?
A- I'm wearing my BCBGMAXAZRIA dress, House of Harlow 1960 necklace from Nicole Richie and Marc Fisher heels.
Q- When/where would you wear this?
A- To the office or a cocktail reception.
Q- How would you describe your personal style?
A- Sophisticated, classy, fresh yet trendy. I love wearing heels and well put makeup everywhere I go. I enjoy doing my own hair
and makeup but won't hesitate to visit a salon if I'm scheduled to attend a special event.
Q- Who's your favorite style icon?
A- Angelina Jolie! I like how she can dress sophisticated and classy for special events then fierce and powerful for her action movies.
Q- What shopping secrets would you like to share?
A- Buy your favourite pieces at the end of the season. I guarantee you will get an awesome discount! I also get trendy ideas from Pinterest.
Q- What's your current obsession?
A- Coach carry-all bags, MAC Cosmetics, trench coats and renting designer dresses for just a fraction of the price!
Q- What comes to mind in five words or less?
A- Family, work, fashion and community involvement
Thanks Paola!