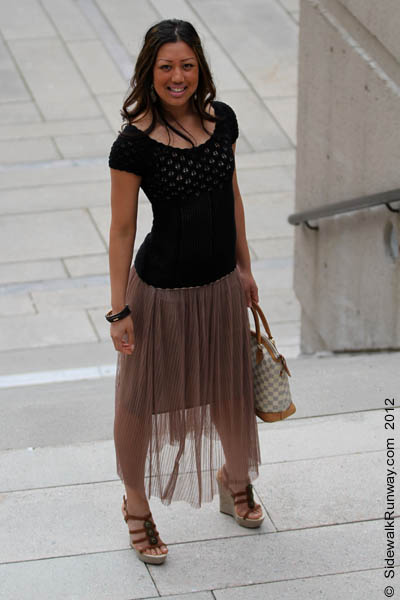 Hi Pornsuda-
Q- What are you wearing today?
A- Ric, I'm wearing Jessica Simpson sunglasses, Guess blouse, BCBGMAXAZRIA skirt, Qupid heels and my Louis Vuitton purse.
Q- When/where would you wear this?
A- To an outing with a friend, maybe coffee or lunch.
Q- How would you describe your personal style?
A- Simply complex, elegant and chic with a sporty twist. But always comfortable!
Q- Who's your favorite style icon?
A- Olivia Palermo
Q- What shopping secrets would you like to share?
A- I like to mix and match inexpensive and designer pieces to create a high fashion finish on any budget!
Q- What's your current obsession?
A- Shopping for feminine, fashion forward and flirty athletic gear.
Q- What comes to mind in five words or less?
A- Living life on my terms.
Thanks Pornsuda!


P.S. Pornsuda and I met to plan a photo shoot. She actually wore this outfit to Starbucks. She looked so nice
I decided to do an impromptu shoot rather than meet a second time!