The artistry of haute couture millinery


1-on-1 with Dominique Hanke

During the past three years I've seen Dominique at numerous fashion events. We always chit chatted but today was the first time we actually had a conversation. After seeing her as a panelist for a Vancouver International Film Festival fashion documentary called, "Handmade with Love from France" I was inspired to learn more about haute couture.

Incidentally, local fashion designer Jason Matlo was the second panelist. Click Jason to view his collection and read my interview.

The final panelist was the film's Director/Producer. Click Julie view a short clip of her film and read my review.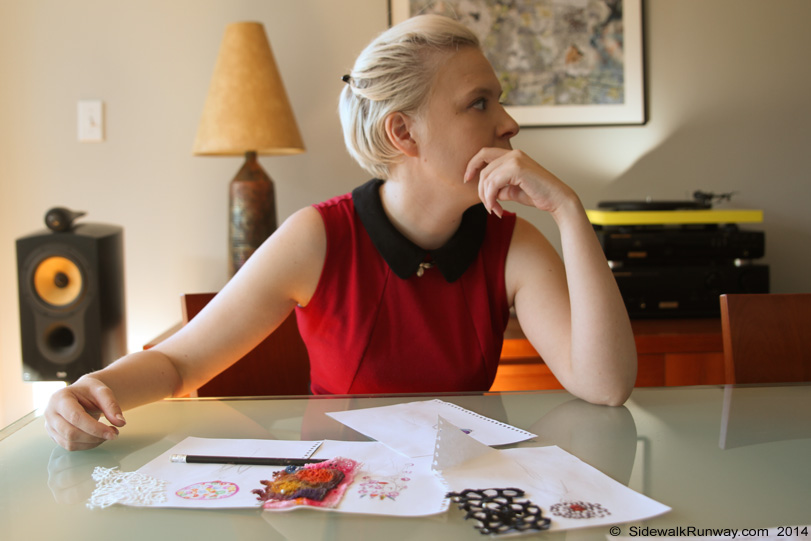 Where the magic happens!
Dominique on the cover of Weekly Entertainment (WE) 07.18.13
A man's straw Fedora mixed with tartan fabric
A woman's Bowler hat
A woman's Boater hat
Bracken, Dominique's daughter modeling a Cloche style hat











































































































































Q & A
---
R!c – Your designs are unique but the name Hive Mind suggests conformity. What's the story behind your name?
Dom – It comes from my childhood. From a young age I was able to pick up on the cultural cues that influence trends. I felt comfort in the fact that I shared a similar mindset with the fashion world.

R!c – Baseball caps and toques are the norm for Vancouver. What other styles exist?
Dom – Race hats (horse racing) are: Fascinators, Whimsies and Perches. Traditional hats are: Top Hats, Cloches and the 1920's style. Pork Pies, Bowlers and Fedoras are common men's hats.

Hats also have seasonal influences. In the spring you'll see wide brimmed sun hats. Summer brings out contemporary colorful straw hats for those that want to make a bold statement. In the fall you'll see more romantic, vintage pieces.

R!c – In old B/W movies everyone used to wear hats. Today hats are special occasion pieces. What's your perspective on millinery?
Dom – The 1920s – 1950s was the golden age of millinery. I absolutely believe there is a place for "traditional millinery" but I believe we ALSO have to push the envelope and evolve the art to keep it in line with the fast paced fashion industry.

R!c – What are some common misconceptions you have to overcome?
Dom – Women will try on one or two hats and if it doesn't immediately impress them then they feel they don't look good in hats. How many women do you know would say they don't look good in jeans after trying on two pairs?

You need to take the shape of the person's face into consideration. Sometimes tipping a hat a different way will give a woman the amazing look she expects.

R!c – What are some of the typical challenges you face?
Dom – On one hand, people are expecting to spend $30 at H&M. On the other hand they are quite willing to spend hundreds of dollars on labels because they are status symbols.

Sadly, there's a disconnect with haute couture (hand made pieces) because people assume you can cut corners to lower your price. Sure I could use cheaper fabrics and a glue gun but there's no satisfaction in compromising my standards. I can trace the fabric I buy back to the factory where it's made. Basically there's an educational component to help people understand my work and the value I bring.

R!c – Well, let's help people understand the process. Please describe your business.


Client Pieces

---


I have two consultation meetings with my clients. In the first meeting
they choose the style, fabric and color of the hat. During their second
visit they pick the finishing details. Delivery takes 3 – 4 weeks from
the first meeting.

Collection Pieces

---


My collection pieces are for fashion photo shoots and runway shows.
They are unique, very creative art forms. It gives me a chance to
experiment, play with materials and figure out how to make
a new idea work.


1. Pick your hat's wooden shape

2. Pick your hat's color





















3. Pick your hat's fabric

4. Steaming (to soften) the fabric





















5. Stretching over a wood block

6. Pinned to a wood block





















7. Ready to set for 24-hours

8. Wiring preserves the shape





















9. Hand sewn metal or nylon wire

10. Pick your hat's trim & ribbon





















11. Invisible stitching the trim

12. Invisible stitched ribbon

1. I sketch then select the fabric

2. I added a buckram to this piece





















Close-up of hand-painted lace

Worn on the runway



Collection Pieces in Print and on the Runway
---
Editorial Photo Shoot – Johnny Se Photography
Hive Mind runway show, Vancouver 2013 – Kuna Photography
Editorial Photo Shoot – Paul Behm Photography
New York Fashion Week 2013 – TUR Photography











































































Contact Info
---
R!c – What enjoyment do you receive from making hats?
Dom – I like the feeling when something awakens in a client as a result of trying something different and unique.

R!c – Where can people reach you?
Dom – www.hivemindmillinery.com