"These are a few of my favorite things…"
Partnership & Collaboration
---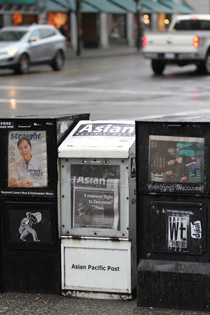 December 2012 I was asked by Asian Pacific Post to provide weekly fashion images for their Community section.

APP is an independent English-language newspaper covering the Asian community in Canada and abroad with 160,000 weekly readers. Copies can be found each Thursday on various street corners. Here's a few popular locations:
Intersection
Downtown:
– Robson & Thurlow
– Alberni & Thurlow
– Georgia & Burrard
– Georgia & Burrard
– Georgia & Howe
– Robson & Hornby

Elsewhere:
– E. 49th Ave. & Fraser
– Metrotown
Located near…

– Starbucks
– Escada
– Bell & Suki's Hair Salon
– RBC Bank
– Pacific Centre
– MAC


– Canada Trust
– Bus Loop
Photographer & Blogger
---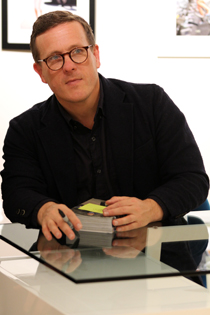 The The Sartorialist needs no introduction. I sincerely admire his photography.

Meeting someone you respect or admire is tricky because it's natural to build expectations of who they are and how the encounter will unfold.

Click the Sartorialist Book Signing to read what happened when I met Mr. Scott Schuman.
















Fashion Commercials
---
The video quality is poor but that won't stop you from smiling! I love how these guys mock and promote fashion at the same time!



Annyeong Haseyo- If I have a chance to visit Seoul, I'm definitely booking my flight with Korean Air!






Interviews
---
I wondered about President Nicolas Sarcozy's sincerity when the news reported he was marrying a French supermodel. However, I've been impressed each time I've watched interviews from Carla Bruni's modeling days. She's warm, honest and extremely intelligent. See for yourself how she manhandles a reporter who asked a stupid question about her sex life.






Must See Fashion Documentaries
---
September Issue
In "The Devil Wears Prada" Meryl Streep plays a high powered magazine editor. Her character was based on the First Lady of Fashion… Anna Wintour. This film gives a great behind the scenes look at Vogue magazine and the fashion industry.

Click September Issue to watch the trailer.


Bill Cunningham New York
When the ad first appeared in the local newspaper I was not interested in seeing this film. The ad layout was busy, confusing and told very little about the plot. Luckily I saw the trailer on Fashion TV and learned the film was about photography and street fashion. I rushed out to see the film the very next day. I was inspired so much by the film, I decided to create SidewalkRunway. Hopefully I'll be well respected and snapping photos when I'm eighty years old!

Click Bill Cunningham New York to watch the trailer.




Four Films with Fabulous Fashion
---
Hero
Warning… This movie has subtitles. I wish it had been made before Crouching Tiger Hidden Dragon because it's a better film on many different levels. Both films have strong female leads and supernatural martial arts scenes but that's where the similarities end. First, the storyline unravels as soon as it's told. Second, the cinematographer uses color in breathtaking ways. My favorite scene has two women in long, flowing red robes set against an autumn backdrop of trees with golden leaves.

Click Hero to watch the trailer.


The Artist
The Artist is a modern day recreation of the black & white silent films of the 1920's. I really enjoyed it because I had to watch the actor's dramatic expressions to understand the context of each scene. The leading lady is absolutely gorgeous (in a girl next door way). The cinematography is awesome and the clothes were stunning despite of the absence of color. The flapper dress and fur coat were definite eye candy scenes!

Click The Artist to watch the trailer.


In the Mood for Love
Warning… This movie has subtitles and the story unfolds at a snail's pace. The trailer is very westernized and literally misrepresents the spirit of the movie. Despite my disclaimers, I highly recommend movie. It's a simple story about the longing between a man and a woman. Both are married to other spouses. However they share an interesting bond. The cinematography is very stylish and the leading ladies' outfits are stunning.

Click In the Mood For Love to watch the trailer.


An Education
Here's the plot. By coincidence, older man (thirties) meets young girl (late teens). Older man has money (so to speak). He takes his new girlfriend on expensive trips and buys her lovely outfits. But there's a twist… While the plot might sound raunchy, the script is intelligently written and leading lady (girl) is very bright. The transformation from preppy school girl to young lady is quite remarkable.

Click An Education to watch the trailer.




Music Videos About Fashion
---
Of all the tracks on Bionic I really hoped to find a video for Glam. I found dozens of creative fan made versions but not the official video from Miss Christina. I ultimately decided to post an audio clip. The song is good but the lyrics are great.




This old school video was cutting edge in the 1990s. It epitomizes the decadence and fantasy of runway shows. It also features a luscious Tyra Banks long before her "America's Next Top Model" series.




Here's a vintage video from the 1980s. The cheesy lyrics and dated fashion are part of its charm. You can't help but smile.





Photo Credits:
The retro self-portrait photographer's name wasn't listed…
The vintage TV photographer wasn't listed…
The Wonder Girls screen capture was created by an unknown fan.