The quote to the left says it all…

Can you imagine dropping out of grade school every month for a week?

That's exactly what happens to young girls that don't have sanitary products. The fear of having an accident
in public is enough to keep them at home. Over time they fall farther and farther behind and eventually drop out
of school, leaving marriage and childbearing as very real alternatives. That's where You & Her lingerie helps.

When you purchase their lingerie, "you
enable a You & Her funded sewing center in Zambia to produce her

underwear, and distribute in tandem with extra supplies these young girls need as they fight to stay in school
past puberty."




On the night of the runway show… I walked past a non-descript building on Powell St. I checked the address and doubled back to ring the buzzer. Once inside I was amazed by the ultra modern metal & wood interior. It was a recording studio hidden amidst an unsettled Gastown neighborhood.

I'm glad I arrived early to assemble my gear because all of the guests arrived promptly at the 7:30pm start time! Marie of M&M Indulgences (and her two assistants) laid out several plates of appetizers. Guests mixed, mingled and sipped wine while they looked at You & Her lingerie on the display rack.

The runway show featured barefoot models of all shapes and sizes smiling and connecting with the audience. The show ended a few minutes later. It was followed by an auction which raised money for their charity program. After the auction I spoke with Laura, Co-Founder & Designer. I asked if she had a traditional brick & mortar store. Not at the moment. Their lingerie can be purchased on their website. However if you want to touch each piece, their lingerie can be found in Yaletown's Woo to See You boutique.

As for the lingerie, I really liked their "Bandeau" top. There was something sexy about how it stayed in place. I also liked their "Thong" bottoms. Normally thong is synonymous with dental floss. However their version had a bit more coverage on the back side.

A few days after the show I followed up with Christina and she wrote, "Our bandeau is best suited to fit a woman with cup size C and smaller. We are coming out with a better supported bandeau in the near future, which will suit a fuller range of cup sizes."

I also learned their lingerie is hand sewn locally by Laura and an assistant seamstress. Their fabric is also purchased locally from Telio in Gastown.

Click You & Her to visit their website.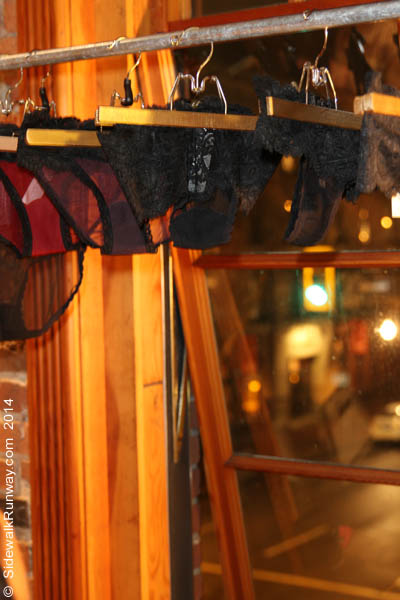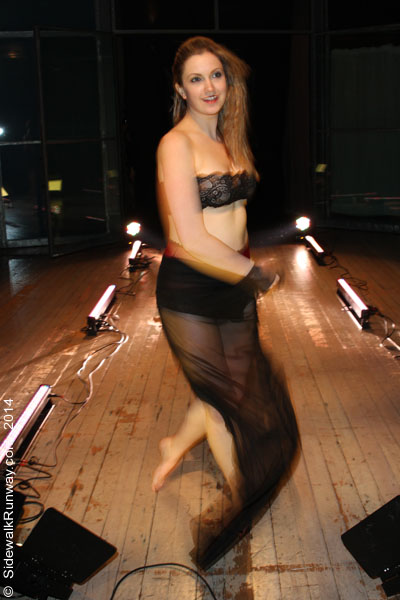 You & Her Founders: Christina & Laura
Sergio, Villages of Hope helped Christina start You & Her
Kate & Jenn having fun raising funds during the charity auction
This pure silk chiffon robe raised $230!
This black/plum nylon mesh robe raised $200 as well.
Breanna is an Image Consultant, Stylist & Personal Shopper
Peter looking stylish
Kate, Madeleine, Lunapads Founder, Laura and Christina
Laura & Shawna
Husband and wife Moses & Kate
Kim (l), Christine (c) and Erin (r)
Kim
Mahkeela You & Her Events and Administration Coordinator
Erin, Independent Stella & Dot Lead Stylist
Claudia
Tanja modeled in the runway show
Marie, M&M Indulgences made the appetizers
I love Erin's pointy toe, ankle strap 9 West heels
Here's another shot
Rebekah, Mae and Bethany







































































































































































































































































































































































































































































































































































































Update
---
Erin (r) is a Stylist and she picked Kim's (l) outfit
She also picked Christina's outfit. Click Style Tips to contact Erin.