Vancouver is a breathtaking city because of the close proximity of the ocean, mountains and forests.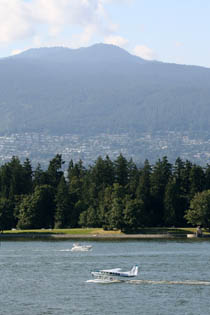 We can bike along the seawall, lounge on the beach and go night-clubbing all in the same day.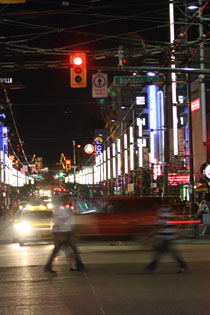 It's quite common to see luxury boats and high performance cars.


About Vancouver Fashion
---

My blog will leave you with the impression that Vancouver is a fashion capitol. This is not the case. Vancouver fashion is very casual! Sidewalks are filled with people wearing flip flops, t-shirts and poufy scarves. There have been many days where I've returned home without taking a single photo. Needless to say, this is very demoralizing when it happens too frequently.

As you read this post, PLEASE keep in mind that I am not passing judgement on anyone. I don't see fashion as elitist or exclusive. I would gladly befriend a kind, honest fashion challenged person over flaky fashionista any day! I simply believe fashion is Fung Sui for clothing. Meaning, your appearance can have a positive effect on people around you. Stated a slightly different way Coco Chanel said, "Dress shabbily, they notice the dress. Dress impeccably, they notice the woman."

In some cultures women wear make-up and heels to the grocery store. This is not the case in Vancouver! Fashion isn't a priority for the vast majority of Vancouverites. While it's rare, people have worn jeans to the opera and T-shirts to nice restaurants. Our behavior has not gone unnoticed. CBC News aired a TV broadcast about an MSN Travel article titled, Vancouver 3rd in Worst-dressed City List. This doesn't mean we're not intelligent or kind, it simply means we're fashion challenged.

This may be due (in part) to the ocean, mountains and forests we have in our backyard. After all, it's not practical to bike in stilettos! Some women equate fashion with uncomfortable heels and tight clothes so they prefer flats and loose fitting sweaters. Others don't see the point in dressing-up unless they are headed to a job interview, wedding or travelling to Las Vegas for the weekend. And other women consciously choose to downplay their femininity in favor of highlighting their accomplishments.

With soooo many women (and men) dressed so casually, there's little incentive for people to dress nice. Sadly it takes a courageous woman to dress nice in Vancouver because she will definitely get noticed.

All of the images posted below were intentionally shot from behind. I took this approach to avoid the appearance of criticizing a specific individual. I'm sure I missed a style category or two but the images below illustrate how people in Vancouver tend to dress. Lastly, I have a high quality camera and a powerful telephoto lens. I can zoom in and crop photos to capture details. While it may look like I'm directly behind a woman, in most cases I'm several meters away. In some cases I'm standing on the opposite side of the street!



About Vancouver Fashion – Active Lifestyles
---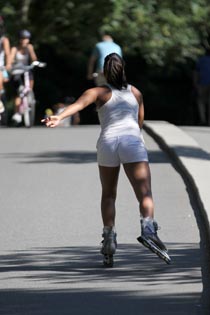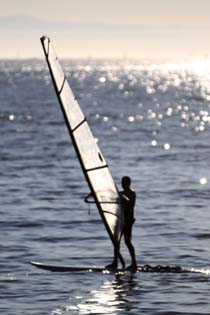 About Vancouver Fashion – Active Wear
---

Some people live near their gym so they walk to and from their gym wearing their gym clothes. Others spotted wearing their gym clothes could be exercising by: walking, jogging or riding bikes along the seawall.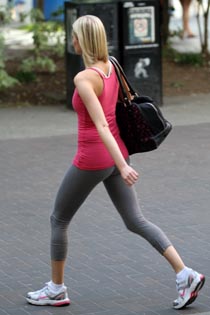 About Vancouver Fashion – Yoga Wear
---

People head to & from the yoga studio in their yoga outfits. The serious students own their own mats. I've taken a couple yoga classes and found them quite challenging. However, some of the smaller studios don't have showers so I can understand why some people might be hesitant to wear their office clothes home…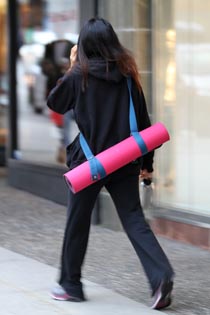 About Vancouver Fashion – Beach Wear
---

Alki Beach is a 30-minute drive from downtown Seattle. In contrast, Vancouver has English Bay, Second Beach, and First Beach within walking distance of downtown. There are several more beaches near the University of British Columbia (UBC) and the neighborhood of Kitsilano. It's quite common to see people downtown wearing cover-ups as they head to or from the beach.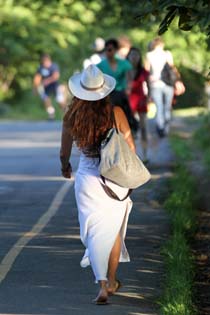 About Vancouver Fashion – Urban Hikers
---

Hiking gear is designed to keep you comfortable on the trail but many see a dual purpose for the sidewalk…


About Vancouver Fashion – Sexy
---

The vast majority of Vancouver women wear: 1) Active wear, 2) Hiking gear (e.g. Gortex jackets) and 3) Very casual outfits. The fourth category belongs to a visible minority of women that wear heels with very short and tight fitting outfits. While the man dude inside me likes the eye candy appeal of these outfits, the fashion dude inside me heavily favors refined outfits.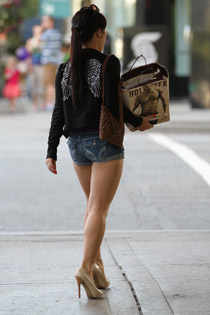 About Vancouver Fashion – Guys
---

My fashion adverse man-dudes…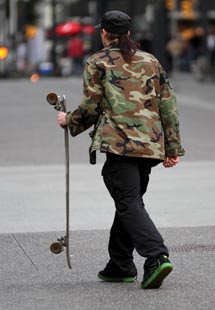 About Vancouver Fashion – Footwear
---

Vancouver women LOVE flip flops, Ugg boots and rain boots! I am NOT a fan. I wore flip flops once. My feet got so gritty from the roadside dirt I never wore them again. I'm told Ugg boots feel like you're walking on clouds. However they aren't rubberized and their fabric soaks up the rain. It rains a lot in Vancouver but I've yet to see a puddle deep enough to warrant a pair of calf high rubberized boots.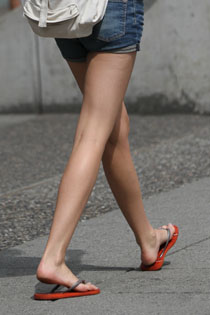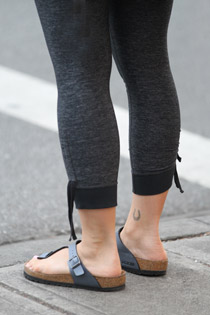 About Vancouver Fashion – Sweats
---

I can't think of a good reason for wearing sweats in public… Gasp! The girl on the right is wearing sweats and Ugg boots. The sidewalk in your runway, not your living room! Save these outfits for reading in front of the fireplace.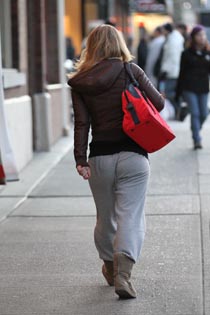 About Vancouver Fashion – Poufy Scarves
---

Vancouver women LOVE scarves! I am NOT a fan. Traditionally scarves were worn by women wanting to hide age spots and wrinkles on their neck. I've seen many dressy-casual outfits ruined by a distracting scarf. If your goal is to hide your chest, wear a blouse with ruffles. If your goal is to keep warm, wear a jacket or a sweater.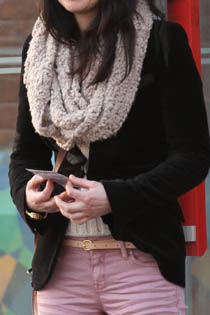 About Vancouver Fashion – Mistakes & Dated Trends
---

Black stockings looked soooo sexy when they first hit the sidewalk. Fashionistas wore them with black cut-off shorts and black heels. The pros matched the black fabric soooo well, I literally did a double because I couldn't tell (without starring) if they were wearing a mini skirt, shorts, jeggings, or knee high boots! A year later the trend has become so trivialized, women don't make the effort to coordinate their stockings with their outfit. The girl on the right could have dramatically improved her outfit by wearing a black spandex body suit. Incidentally the spandex will catch the light in the same manner as her tights.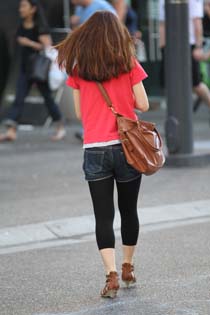 About Vancouver Fashion – Miss-Matched Messes
---

I'm sure these ladies took great care in coordinating their outfits. However I can't think of a kind word to share so I'll stop while I'm ahead…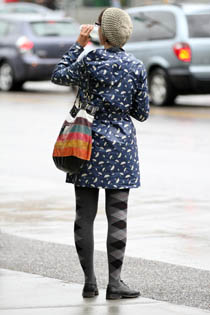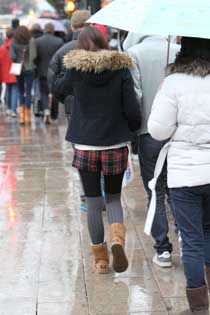 About Vancouver Fashion – Funky Earth Mamas
---

I like to think of Funky Earth Mamas as creative types that express their fashion by use of multiple color and pieces paired in unique ways. These women could very well be single so I'm using term "mama" in a playful way.


About Vancouver Fashion – Tights
---

Lululemons and Jeggings (jeans + leggings) fall into this category. I've been told women LOVE Lululemons (bottoms) because they are form fitting, they keep their shape and they are comfortable. I speculate they give women the ability to show-off their legs without exposing their legs.


About Vancouver Fashion – Black on Black on Black
---

Sadly, career women and fashionistas alike have adopted black on black or black & grey as fall's official color(s). It's unfortunate to see so many people wearing the same color(s). Click, "Fall… Nature's Fashion Show" to read more on the topic.